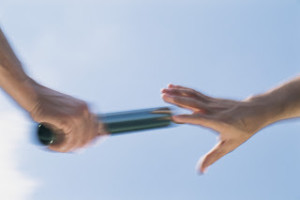 Life can be like a race. We all are in our lanes going as fast as we can to get to the next place. Buying insurance can also be like a race.  Except with insurance, you have the option of passing the baton to an independent agent, and when the baton is passed correctly, you and your agent truly become a team that can accomplish great things.
What are some of the benefits of passing the baton to an independent agent?
An independent agent is someone who knows how to run in the insurance fast lane. With an independent agent, you will be able to communicate more effectively with insurance companies, than you can on your own. This gives you an advantage of having an advocate on your team.  We know which markets are interested in your unique insurance requirements.  For example, some markets like contractors while others prefer retail businesses.  And still other markets like to insure motorcycles.
When you pass the baton to an agent, you now have the experience and clout of a well trained professional to finish the race for you. The finish line includes having the insurance relationship and program design that meets your individual needs.
When an agent takes the baton, you get his or her entire team as well. This includes qualified staff to help answer your questions and provide accurate information to you when you need it.
Every race may have a point where claims do happen. If your agent has the baton they will be there to help you get back on your feet and get you back in the race. An agent will take the lead in working with the insurance company during the claims process.
As your team member, we communicate with you. Our goal is to connect with you regularly throughout the year on hot topics that will affect you.
Together we will run the race with professionalism, excitement, experience, and customer service in mind, to deliver the best possible combination of coverage, service, and price.
https://reichleyins.com/wp-content/uploads/2018/04/rei-logo-0418.png
0
0
Perk Reichley
https://reichleyins.com/wp-content/uploads/2018/04/rei-logo-0418.png
Perk Reichley
2015-08-19 20:07:55
2018-04-03 10:26:33
Why Hand The Baton To An Agent?