An Example of How Not All Agents Are Alike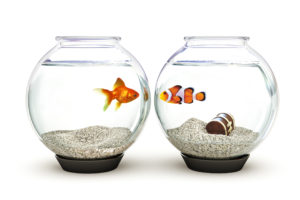 I was having a conversation with an agent friend of mine discussing how we can differentiate ourselves from other agents.  He told me a stunning story that I want to share.  This story goes to the heart of my quest to educate agents and customers about the value of relationships.
My agent friend (call him John) told me that he recently was hired by a business to help them manage their commercial insurance and risk program. The client had been with their previous agent for ten years, so the change was a big decision for them.  John asked the new client why they decided to change, and they told him that they felt like all the previous agent did was renew their insurance.  They only saw him when a bill needed to be paid.  The client checked around, and another business associate recommended John.
As part of John's relationship building, at the first meeting he asked a series of questions about the client's business.  One of the questions led to the client telling John that they owned an underground storage tank that had been un-used for about 10 years.  The client never thought to tell their previous agent about the old tank.  The client said it just never came up.  John explained the risks of owning an underground tank, and directed them to various web pages showing the possible fines if there was ever an issue.  Obviously, the client became very concerned.  However, John suggested a number of solution options and the client decided to have John secure a quote for pollution liability.  The client ended up with a $1,000,000 policy at a cost of only $10,000.
This is where the story gets good.  About two years later as part of the annual client review meeting, John asked about the tank, and the client said they were removing the tank as part of a plant expansion.  Well once the tank came out, there was found to be $450,000 of soil damage and pollution cleanup.  That is a $440,000 cost benefit (minus the deductible).
Needless to say, the client now truly understands the value of relationships and the importance of having an agent who provides insurance and risk solutions.
Reichley insurance believes insurance is more than a transaction.  Insurance involves a trusted relationship built on a promise to put people before policies. Our promise is to listen to you, identify your risks, and provide solutions.  Every Reichley employee has the heart of a teacher.  Connect with us to experience The Reichley difference.
"People don't buy what you do, they buy why you do it"  – Simon Sinek
https://reichleyins.com/wp-content/uploads/2018/04/rei-logo-0418.png
0
0
Perk Reichley
https://reichleyins.com/wp-content/uploads/2018/04/rei-logo-0418.png
Perk Reichley
2017-10-18 16:56:47
2018-04-03 10:25:56
An Example of How Not All Agents Are Alike